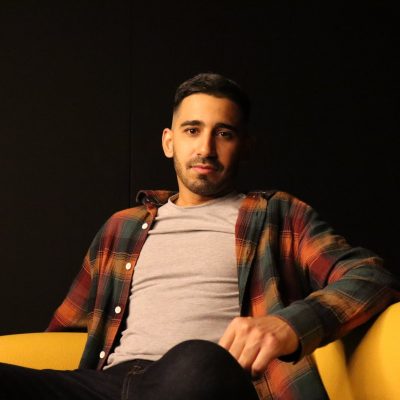 Unai Karam
Pianist, composer and music producer born in San Sebastian. He began to approach the world of classical music at the age of 7 in Madrid. He studied at the Conservatorio Adolfo Salazar in Madrid, the Conservatorio Superior de Música de Salamanca, the Höschschule für Musik in Würzburg and the Centro Superior Katarina Gurska.
He has performed both in Spain and in several European countries, always enjoying good reviews. "The young and talented Spanish pianist Unai Karam, surprised us with a precise and virtuoso interpretation of the German repertoire with works by Schubert and Beethoven". Main-Post.de Bayern, Deutschland.
Winner of the First Prize in the VI and VIII editions of the Polimúsica Piano Competition, as well as the Extraordinary Prize at the End of Professional Degree and the End of Professional Degree Prize 2011, he develops his musical activity between performance, teaching, composition, production and research.
During his formative years at the conservatory, he studied self-taught production in parallel and in 2014 he began to upload covers of famous songs on piano to digital platforms. Several of these songs were selected by Spotify curators and were present in the Top50Viral of Spotify in twelve countries such as Spain, Colombia, Peru, Costa Rica, Ecuador, Uruguay, Guatemala and Dominican Republic among others, as well as in the Mediodía Acústico and Sinfonía Hipster playlists on Spotify. In January 2017 he managed to place as the second most viral song in Chile and the third in Argentina, only surpassed by the hit Despacito by Luis Fonsi & Daddy Yankee. He signed his first record deal with Universal Music Spain in March of the same year.
Since then, he has been intensely active as a producer and composer, most notably in the campaign Soy Yo young fashion of El Corte Inglés together with Milena Brody or the piano arrangement with Cepeda of the single Esta Vez for piano and voice.
He is currently focused on the composition, production and performance of his first album "art in modern times" with music for solo piano. A concept album that poses an introspective look, a serene reflection on the path, always with twists and turns, traveled by the artist throughout his creative life. and inspired by works of great figures of art in various disciplines, such as Maurits C. Escher or Federico García Lorca.
"art in modern times" has been signed as an instrumental music bet by ADA (Warner Music Group), a label with which he also works as a producer creating music for emerging artists.
In 2022 wins the edition Artist Wanted No. 4 for Spotify and thanks to this he gets a concert streamed online worldwide for the entire Spotify community, a platform where he already has more than 7 million plays.